Teaching Kids to Make Healthy Choices With "Food
&

Fun" Classes
Back in May, I accepted a posi­tion as direc­tor of oper­a­tions for Nur­ture Idaho, a non-profit that edu­cates kids and fam­i­lies about mak­ing healthy food choices. Talk about a dream job! Today, I'm really excited to share a post that I recently wrote for The Edi­ble School­yard Project that highlight's Nurture's highly suc­cess­ful school-based Food & Fun classes.
"Why do we eat food?!
"For ENERGY!" shouts an enthu­si­as­tic young boy in a striped t-shirt.
"Right! We need food for energy. Just as a car won't run with­out gaso­line, our bod­ies need food to make us go. But while some foods give us long-lasting energy and help us stay healthy, other 
"Broc­coli?" asks a girl ten­ta­tively. "Apples!" says another.foods make us sleepy and 'Slow.' Can any­one name a 'Go!' food?"
"Exactly! Broc­coli and apples are "Go!" foods because they pro­vide energy and nutri­ents nec­es­sary to grow strong, think clearly, run and play. "Slow" foods, on the other hand, tend to have a lot of sugar or unhealthy fat and don't give your body the energy and vit­a­mins you need to grow. Now raise your hand and give me an exam­ple of a 'Slow' food."
We're at the start of one of Nurture's sig­na­ture Food & Fun classes, and this group of eager 5– and 6-year-olds is here to learn about mak­ing healthy eat­ing choices. After an inter­ac­tive nutri­tion les­son and Go/Slow Relay, the chil­dren will wash up before gath­er­ing around a blender to make "Go!" smooth­ies with whole fruits and fresh spinach.
Some of the kids have never eaten spinach before. Oth­ers say "Yuck!" or make a face when the word is first men­tioned. Soon enough, how­ever, they will be plac­ing dark green leaves, blue­ber­ries and yogurt into a glass blender jar. After it's done whirring, they'll take a ten­ta­tive sip, smile, and guz­zle it down. Most will request sec­onds. Later, when they see their par­ents, the kids will tell them about the yummy drink and ask if they can make it at home. Their par­ents will be simul­ta­ne­ously dumb­founded and pleased. Mis­sion accomplished.
It's these kinds of results that have led to a hot demand for Nurture's pro­gram­ming in our Cen­tral Idaho com­mu­nity. In just two years, our non-profit orga­ni­za­tion has gone from teach­ing two classes a month, to school-wide pro­gram­ming at a pri­vate K-7 school plus district-wide pro­gram­ming at all four local pub­lic ele­men­tary schools. What began as one mom's vol­un­teer effort is now pos­i­tively influ­enc­ing the eat­ing habits of hun­dreds of chil­dren and their fam­i­lies. And with the help of the Blue Cross of Idaho Foun­da­tion for Health, Nur­ture soon will be expand­ing to other parts of Idaho.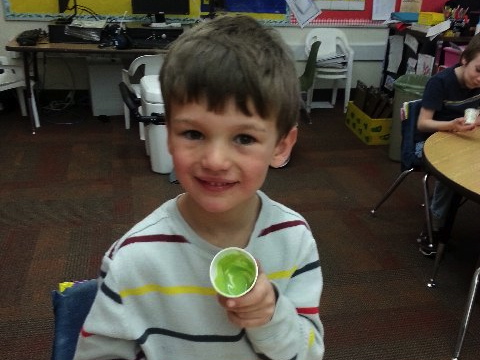 Nur­ture has been pro­vid­ing food edu­ca­tion to kids and par­ents in the Chicago area since 2008. In 2011, Nur­ture founder Kathryn Guy­lay decided to trade fast-paced urban life for the laid-back moun­tains of Sun Val­ley, Idaho. With no inten­tion of start­ing an Idaho chap­ter, Kathryn real­ized that she missed work­ing with chil­dren and offered to teach a cou­ple Food & Fun classes at her son and daughter's new school.
News of the classes quickly spread. Other teach­ers caught glimpses of the kids doing fun nutrition-based games or sam­pling snacks like hum­mus and car­rots. They saw the excite­ment. But it was doc­u­men­tion of the pro­gram impact at the end of the 2011-12 school year that offi­cially did the trick. "We did eval­u­a­tions to show what the kids had learned," Kathryn explains. "Then all the teach­ers really wanted Food & Fun in their classrooms."
It wasn't long before other schools caught wind of the Nur­ture Ele­men­tary Nutri­tion and Well­ness Pro­gram, too. Sud­denly, Kathryn found her­self in the posi­tion of hav­ing to bring on sev­eral nutri­tion edu­ca­tors, a pro­gram coor­di­na­tor and other part-time admin­is­tra­tors to meet the demand.
When Nur­ture first started, Kathryn spent a lot of time try­ing to con­vince peo­ple of the impor­tance of food edu­ca­tion. Now, thanks to Michelle Obama's Let's Move cam­paign and orga­ni­za­tions such as Jamie Oliver's Food Rev­o­lu­tion and The Edi­ble School­yard Project, school admin­is­tra­tors, teach­ers and par­ents are com­ing to her and ask­ing for it. "Teach­ers want their kids eat­ing healthy foods because they know how it affects their per­for­mance," Kathryn explains.
Food & Fun has been a big hit with stu­dents too, which Nur­ture pro­gram coor­di­na­tor Amy Schlat­ter attrib­utes — at least in part — to the food tast­ings. "Kids love get­ting the snacks," she explains. "In all my classes, there were super-picky kids and there were ones who were brave. The pos­i­tive peer pres­sure caused the picky ones to try [new foods]." 
"It's so inter­est­ing to learn about food and what it does for my body," attests Anto­nia Avery, who par­tic­i­pated in Food & Fun as a 5th grader at Hem­ing­way Ele­men­tary in Ketchum, Idaho. "[Before Food & Fun], I never really thought about break­fast but once I tried the "Bet­ter Oats" recipe [in class], I went home and made it. When we ran out of the free box we got, I started ask­ing my Mom to buy it instead of the sug­ary cereal I used to eat."